History of Rose International, Inc.
Martin's great-grandfather "Wilhelm Rosebrock", born in 1880, founded the Freight Forwarding Company in November 1917. It was later named "Hansa Wilhelm Rosebrock", whose main business was servicing the railroad station of Bremen Germany and later taken over by their son, Martin's grandfather "Karl Friedrich Wilhelm Rosebrock" ( nicknamed "Fritz") who was born on February 25th, 1910.
Fritz Rosebrock and Mother Frieda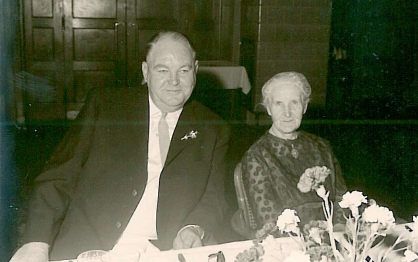 Martin Koenig and Mother Jutta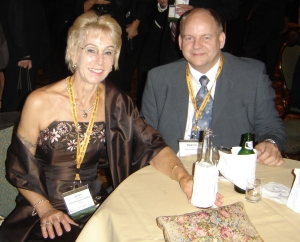 After WWII, Wilhelm Rosebrock would engage in a long term relationship with the American moving industry, with thousands of American Soldiers who were stationed in Germany moving back and forth. This new business was developed by Rosebrock's new partner, Richard Sommer, who joined Rosebrock in 1934.
Born in 1960, Martin joined his grandfather "Fritz Rosebrock" at the age of 6 on numerous occasions to the office. Later as a "teenager", Martin spent various summer vacations helping his uncle "Dieter Menken" who was working as a truck-driver for the Rail Road department.
Karl Friedrich Wilhelm Rosebrock died on February 16th 1971, (Just 9 days before his 61st birthday on February 25th).
On August 1st 1977 Martin Friedrich Koenig started his "Freight Forwarder" apprenticeship with Wilhelm Rosebrock (GmbH & Co.) in Bremen and became certified by the "Chamber of Commerce in Bremen" on February 16th 1981.
Returning from serving 2 years in the German Military, Martin worked as clerk in Rosebrock's international moving department and specialized in the packing and handling of overseas removal transports.
It was Richard Sommer's idea to send Martin off to the United States of America to enhance his skills in the English language and international commerce. So on February 23rd 1984 Martin became a "Management Trainee Specialist" at United States Lines, first in Cranford, New Jersey and later at Norfolk International Terminals, Norfolk Virginia, U.S.A.
This was the time to learn about real international shipping "hands on" at a major steamship line and to enjoy the American life especially by living on the Chesapeake Bay in Virginia Beach. This "love at first sight" was sure to come back at a later time.
In 1988 Martin joined Stute Verkehrs GmbH, first in Hamburg, then in Bremen, and in May' 89 he was given a new assignment at Stute International, Inc's branch office at J.F.K. Airport in Jamaica, New York which later moved to Hoboken, New Jersey.
Beginning August 1990, the first necessities for the start of Rose International, Inc. were purchased and a small office was found. The company name was chosen in honor of the grandparents "Fritz & Hilde Rosebrock" and incorporated in Trenton, New Jersey on October 13th, 1990.
Hildegard & Jutta